Testing will be an essential part of the government's contact-tracing system for controlling the epidemic as lockdown eases.
Anyone with symptoms will need to access a test quickly so that, if they are found to have coronavirus, people they have been in contact with can be tracked down and told to self-isolate.
Who gets tested?
Anyone with symptoms in the UK can now be tested. People working or living in care homes can be tested even if they don't have symptoms.
If you think you need a coronavirus test you can arrange to visit a regional test site. Alternatively, you can ask for a home test kit.
What is the test?
The tests we're talking about are to find out if you currently have the virus.
They are performed by a taking a swab up the nose or from the back of the throat.
The government is buying another type of test. Antibody tests use a blood sample to find out if you've had the virus in the past.
It will first be made available to health and social care staff, patients and care home residents.
Targets
The government set a target of 100,000 coronavirus tests per day across the UK by the end of April, and managed to log 122,347 tests on 30 April.
But it was criticised for including in this figure about 40,000 testing kits which had been sent out but not yet completed or processed.
The number of tests performed is not the same as the number of people tested – on 22 May there were 140,497 tests but 80,297 people tested.
Among the reasons for the gap is that some people have to be retested because their test was void, or to check whether someone who had previously tested positive was now negative or to double check a negative if someone still appeared to be infected.
Concerns have been raised about long waits for some test results.
While there will now be fewer people with symptoms in the general population, as the epidemic recedes, it's been suggested that the 800,000 people who work for the NHS should be tested about once a week.
Some have suggested health and care staff should be tested, possible twice a week, since the test is most effective around the first three days of having symptoms.
Speed is also of the essence when it comes to the "test and trace" system. People with symptoms need a quick test so the people they have been in contact with can be tracked down and told to isolate. Delays will give more time for the virus to spread.
Anyone with symptoms should immediately isolate, but until they have a positive test, others they already infected who might be asymptomatic might continue spreading the infection.
Why is testing important?
A "test and trace" system is being launched in England on 28 May meaning anyone with a positive coronavirus test will be contacted to report their recent encounters with people, and places they have visited.
Those who have been in "close contact" with someone who tests positive will have to isolate for 14 days, even if they have no symptoms.
A close contact will include household members and anyone who has been within 2 metres of someone for more than 15 minutes.
A similar scheme is launching in Scotland called Test and Protect.
Tests can also help people, including NHS workers, know whether they are safe to go to work, let the health service plan for extra demand, and inform government decisions around social distancing and lockdowns.
For this reason, an initial 20,000 households in England will be tested every month for a year – for active coronavirus infections and for antibodies indicating a past infection.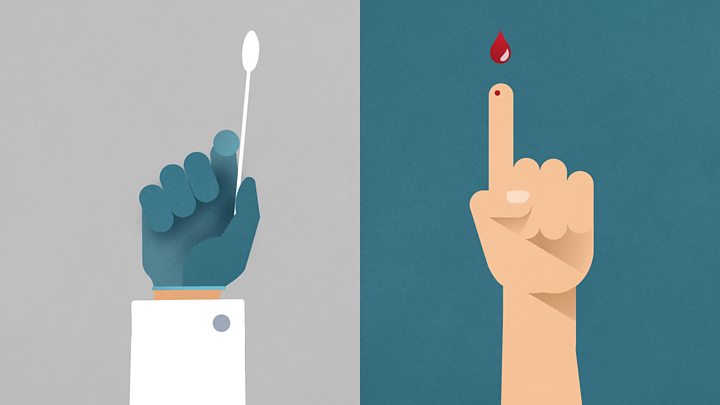 Has the UK been too slow in testing for coronavirus?
The UK significantly increased its testing capacity throughout April, but lagged behind many other nations. Germany, for example, was regularly averaging 100,000 tests a day by the start of April.
The UK did not start with the resources to do mass testing, unlike some other countries.
But it also took several weeks to expand from an initial eight public health laboratories to a wider network of private and university labs.
Follow Rachel on Twitter
What do I need to know about the coronavirus?
---
Have you been tested? Or are you waiting for a test?
Please include a contact number if you are willing to speak to a BBC journalist about your experience.